I talk about creating and managing an online presence alot here on Rapid Purple – and every now and then someone will ask me what I think is the most important aspect of an online presence. Often times they are totally shocked by the answer. Backups. Backups are by far the most important thing when it comes to your online presence because without a proper backup you could loose your entire presence within seconds.
I can't begin to count up the amount of clients I have worked with who have relied solely on their hosting providers backups – especially as more and more hosts offer free daily backups, weekly backups, or the like. However a rule of thumb for just about all of your data is that you should always keep and maintain your own backups. You want to rely on yourself as the last resort for all your data – not on someone else. Just like you don't hand the spare key to your car to the guy who makes your sandwich every morning at the local deli.
Let's do a bit of a story. Allow me to present to you the following scenario: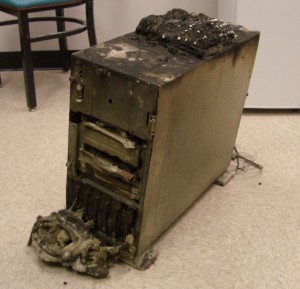 During some routine server maintenance your hosting provider notices that one of their servers require additional SAN space.  They initiate the expansion of the current SAN with another 100GB of SAN Space so that their users could easily expand their accounts and when new accounts were added they would simply be able to use the extra space that had been provisioned. This process usually takes somewhere between 30-60 minutes. Somewhere between that time frame the datacenter has a connection hiccup – as such the server did not have the time to run through the entire cycle it needed for the expansion of the drive – and now everything is corrupt. There go you're files.
Now a few things can happen from this point.
You're hosting provider claims that they offer daily or weekly backups. If these are off-site backups you might be in luck. Off-site backups mean that a backup of your files is stored on another server somewhere. Either it's your hosting providers own server, or they are using a backup provider such as R1Soft or Mozy to accomplish this. In this case you need to hope that the backups on R1Soft or Mozy have not been corrupted – and that they are in-fact up-to-date. If you're host offers weekly backups you will loose out on a few days of work and data – but there is a better chance that the backup files are safe. Daily backups run the risk of being corrupt – especially if R1Soft or Mozy attempted to run a backup once the drive has already been corrupted.
If you're hosting provider doesn't have any available backups of your files – this is when you need to make sure you have your own. Blaming them might get you a refund on your services, but it won't bring you back your files. Oh you weren't making your own backups? All you're hard work is now lost, gone, vanished, poof.
There is nothing better than your own backups. If you maintain a website that gets updated daily – make it a habit to download a backup of your database or changed files every few days. Websites with less updates might make it a weekly or bi-weekly ritual. cPanel users can setup a cron job to automatically perform a backup of their account hourly, daily, weekly, or monthly. For wordpress users I would also suggest the following plugin: http://wordpress.org…s/wp-db-backup/ – using which you can schedule daily, weekly, or monthly backups of your WordPress database (in full, or only specific tables). While we're touching base on WordPress, another great solution is to use the Dropbox Backup plugin – which allows you to program automatic backups of your full WP site to your Dropbox account. Keep in mind that this will only backup your WordPress database – so you will still want to maintain a solution for all your other files and databases on your account. Those of you who have installed WordPress using Installatron or Softaculous can make use of the built in backup solutions of both installers to schedule daily or weekly backups of your WordPress website.
Users on a VPS can make use of the built in backup solutions within WHM to schedule daily, every two day, weekly, monthly, backups of all or specific accounts on your server.  Lastly you could always log into cPanel and click the backup button and download a full backup of your website.
Furthermore those of you who rely heavily on saved and stored emails – switch over to Google/Gmail as your mail server. This will not only free up some system resources (since Google's mail servers are now being used instead of your own; more-so saved messages are no longer taking up your disk-space as they are all stored on Google's servers); and this will also help make sure you do not loose any of your stored emails during any downtimes or host issues. All of your messages will be saved on Google's servers – so even if you're site is down – you're emails remain. Moving your email needs over to a dedicated provider like Google also lets you disable various services running on your server and taking away from your resources. If you have a VPS you, or your hosting provider, can disable Spamd, Mailman, CatchAll – and significantly improve your server performance.
Regardless of which method you choose, what plugin you go with, whether you opt for an automatic solution, or go for it manually – just make sure you have your own backups. You'll thank me later.