Webmaster Software
---
Need to find an FTP program? Looking for a text editor to write your code? Need a free alternative to Adobe's Photoshop? The software section here features a ton of awesome, free, software that's sure to help all webmasters and most internet users.
Free Webmaster Resources: Webmaster Software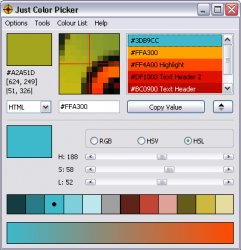 Just Color Picker is a freeware Windows & Mac graphic design tool which lets you easily capture colors from anywhere on your screen and combine them with their ideal shades and color combinations. Most widely-used formats of colour codes: HTML, RGB, HEX, HSB/HSV, HSL, CMYK and Delphi. Averaged colour sampling for easy handling of colour …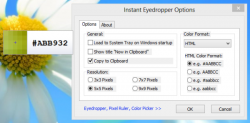 Instant Eyedropper is a free color detection tool for webmasters that will identify and automatically paste to the clipboard the HTML color code of any pixel on the screen with just a single mouse click. The Instant Eyedropper sits in your task bar, and activates with a single click. Currently Instant Eyedropper supports the following color …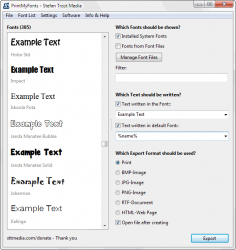 PrintMyFonts makes it possible to list all of your installed fonts as well as fonts from your hard drive or disk – giving you an easy way to look at all of your available fonts and pick the ideal one for your project. You can display any sentence or single character written in the fonts of your …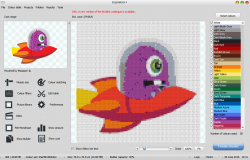 Legoaizer creates LEGO® brick mosaics and is capable to create perfect color matches with every possible combination of colors and sizes. Several high-accuracy color matching engines are used, including color and black & white dithering, and the Mosaizer Pro color matching engine. Even from a close distance the beautiful photograph can be seen, no need to …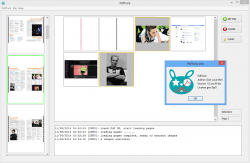 When it comes to getting images out of a PDF document the process can be rather annoying – luckily PdfTrick offers us a free, open-source, solution which easily extracts all images from one or more PDF files. The program is Java based, and requires no actual installation. It's a single executable, into which you can …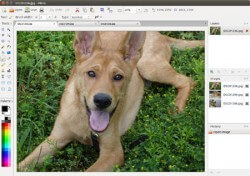 Pinta is an open-source, cross-platform bitmap image drawing and editing program inspired by Paint.NET. Pinta includes over 35 adjustments and effects for tweaking your images, along with all of the basic tools and features you will need to successfully work on you're graphics.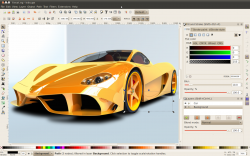 Inkscape is professional quality vector graphics software which runs on Windows, Mac OS X and GNU/Linux. It is used by design professionals and hobbyists worldwide, for creating a wide variety of graphics such as illustrations, icons, logos, diagrams, maps and web graphics. Inkscape uses the W3C open standard SVG (Scalable Vector Graphics) as its native …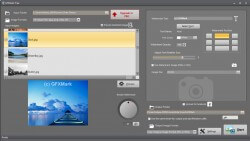 GFXMark is a Free Image Watermark Software for Windows with which you can Watermark your photos or images to protect your work on the Internet. GFXMark is the world first watermark software with intelligent Brightness-Aware Watermark Color and Brightness-Aware Watermark Opacity, with this feature your watermarked photos will always look good and have a visible watermark …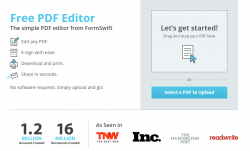 A web-based PDF editor developed by FormSwift –  a SaaS startup helping organizations go paperless. The FormSwift PDF Editor features a clean interface and offers extreme simplicity in it's use. Simply upload a PDF and simply click to start adding text, images, or a signature. Whenever you're done you can print it or choose to download it …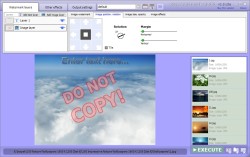 Easy Watermark Studio Lite is a great tool for adding custom text and image watermarks to your pictures. You get to add a plain text caption to your image; set the font, size, alignment, colour (with a gradient option, and a choice of four gradient directions), position, rotation, opacity and more. You're not restricted to one watermark, either. Easy …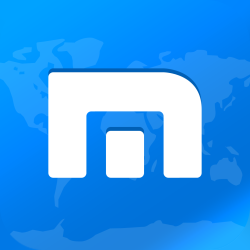 Maxthon (originally known as MyIE2) is a freeware web browser for Windows, OS X and Linux that is developed in China by the company Maxthon Ltd. It is also available on Windows Phone 8, iOS and Android platforms as Maxthon Mobile. Since the release of version 3, Maxthon supports both the Trident and the WebKit …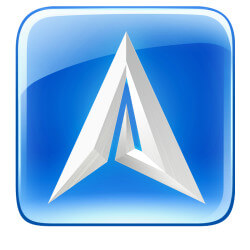 Avant Browser is a freeware web browser from a Chinese programmer named Anderson Che, which unites the Trident layout engine built into Windows (see Internet Explorer shell) with an interface intended to be more feature-rich, flexible and ergonomic than Microsoft's Internet Explorer (IE). It runs on Windows 2000 and above, including Windows 8 and Windows …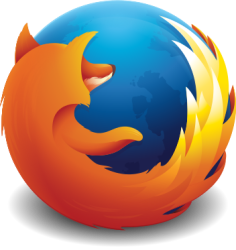 Mozilla Firefox (known simply as Firefox) is a free and open-source web browser developed by the Mozilla Foundation and its subsidiary, the Mozilla Corporation. Firefox is available for Windows, OS X and Linux operating systems, with its mobile versions available for Android and Firefox OS. It uses the Gecko layout engine to render web pages, …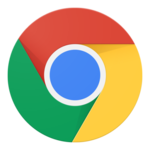 Google Chrome is a freeware web browser developed by Google. It used the WebKit layout engine until version 27 and, with the exception of its iOS releases, from version 28 and beyond uses the WebKit fork Blink. It was first released as a beta version for Microsoft Windows on September 2, 2008, and as a …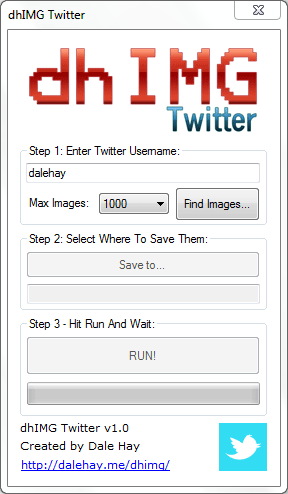 dhIMG Twitter is a free program that works on pretty much any computer running Microsoft Windows and allows you to download the images from a Twitter profile easily. This tool can be extremely handy if you are wanting to backup your Twitter profile and don't wish to save every image manually.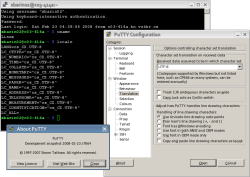 PuTTY is probably one of the most recommended Telnet and SSH clients for Windows and Unix platforms. The first beta came out back in January of 1999 and since then it's been a staple tool for any webmaster. It supports several network protocols, including SCP, SSH, Telnet, rlogin, and raw socket connection. It can also …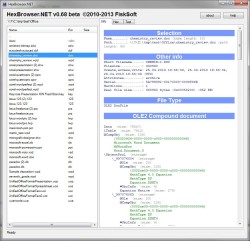 HexBrowser is a free tool that identifies file types for files that don't make their file type known. It does not care about the file extension, but opens each file to look for signatures inside, so it can determine the exact type of a file. It currently recognizes more than 1000 different file formats. HexBrowser shows …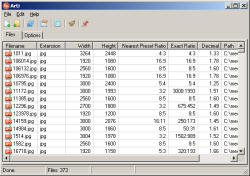 Small application that lists aspect ratios for images. Exact ratios are listed in addition to a nearest match ratio based on a configurable preset list.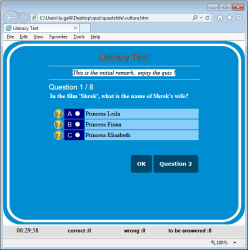 QuizFaber is a free application which will allow you to create easily and rapidly multimedia quizzes in HTML with a JavaScript, embedded in the HTML page. The HTML pages can be personalized in many ways: one can choose a new background color for the text of the answers, set a background image and sound that will …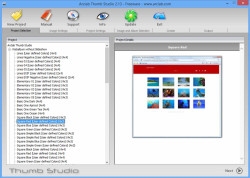 Thumb Studio is an easy to use image gallery, thumbnail, slideshow and web photo album creator for everyone. Its also an image converter, which allows you to create 3 different image sizes at once. The program contains several drafts and pre-defined styles for slideshows and web albums. All attributes can be customized: image size, rows, …