30% of sites on the internet are being powered by WordPress today – making it the most popular website-building tool. With its vast popularity, it is not surprising that WordPress is an alluring target for hackers. A hacked website can be misused to steal user data, and financial information and even spread misinformation along with a host of other malicious activities. It is therefore crucial that site administrators using WordPress invest in securing their websites.
As they say, it's better to be safe than sorry. It is advisable not to wait until your websites are hacked to invest in a security solution. With the vast variety of security plugins available online today, finding one appropriate for your needs can be challenging.
One of my inactive websites was recently hacked and it was then that I decided to use a WordPress security service. In doing my research, I came across MalCare many times and decided to try it out. Below is my review of this  security solution.
An Introduction to MalCare
MalCare provides a complete security solution with features to not only prevent malware but also to detect and remove it if it has already found a way to your website. MalCare keeps your site safe from hack attempts and that too with no false alerts, making it a reliable solution.
The product has been built by the same team who are responsible for building a popular backup plugin called BlogVault. As it rose in popularity and catered backup services to over 200,000 websites, the creators realized that there was a need for a good security plugin especially for website owners who have no technical knowledge. MalCare took over two years to be developed and launched.
MalCare offers a comprehensive and powerful scanner. With the click of a button, the Cleaner can get rid of any malware. This removes the need to share personal details or provide access to your website to a third-party technical support team. There are many more security features that the service offers. The main MalCare features that I tested and am going to discuss here are listed below:
Installation and Setup

MalCare Dashboard
MalCare Scanner
MalCare Cleaner
MalCare Firewall
Website Hardening
Website Management
Secure Backups
MalCare Support
How to Set-up MalCare for Your Website?
It's an easy process and requires only a couple of minutes.
Step 1: Log in to MalCare dashboard. To add a new website to MalCare, click on the "Add Site" but and then enter your website's URL. And then you'll be prompted to enter credentials to install the plugin on the website.
Step 2: Next, you'll have to install the plugin on your site. That's all it takes to set up.
When MalCare is installed, it does an automatic scan and assigns a score based on the health of your website's security.
MalCare's algorithm assigns scores from D (lowest score) to A (highest ratings) and suggests ways to improve the score by strengthening your security.
What service does MalCare provide to your site?
MalCare Scanner
The MalCare scanner is a robust tool that scans your website and informs you if it's able to detect any malware. The scanner was built over the course of two years using artificial intelligence that monitors over 240,000 sites. This means that it detects patterns in hacks and intelligently uses it to learn to be able to identify more sophisticated malware every day.
The scanner runs automatically each day and you can set the time of the scan. Besides, you also have the option of running scans on-demand by clicking "Scan Now" from the dashboard.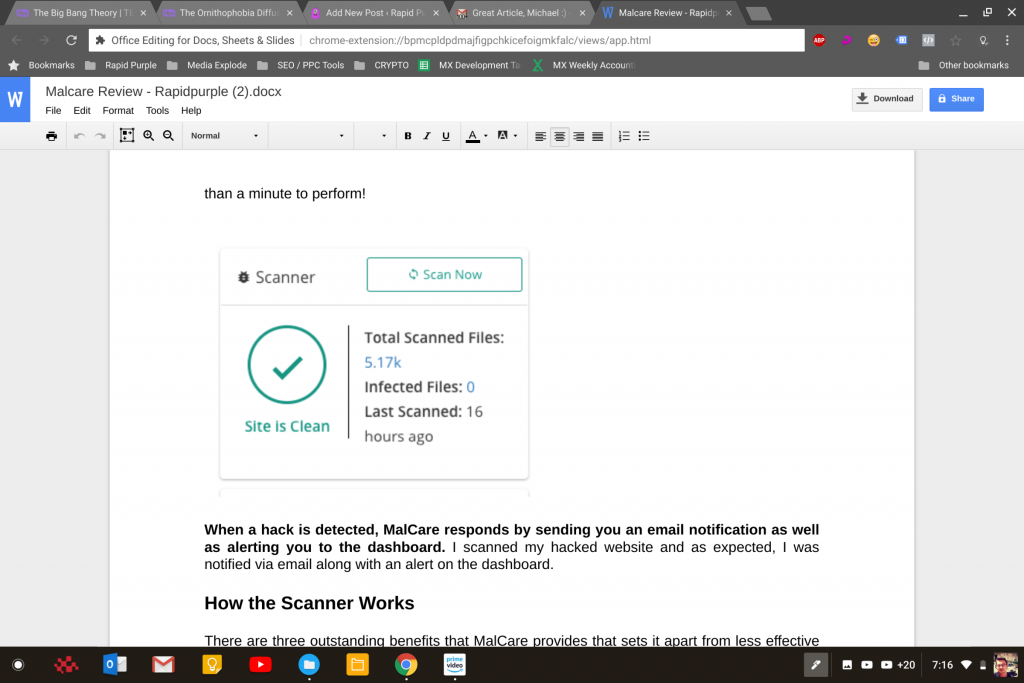 The changes made to your website are synced directly to MalCare's servers incrementally. MalCare keeps tracks of all modified files. This makes scans extremely efficient that takes less than a minute to perform!
When a hack is detected, MalCare responds by sending you an email notification as well as alerting you to the dashboard. I scanned my hacked website and as expected, I was notified via email along with an alert on the dashboard.
How the Scanner Works
There are three outstanding benefits that MalCare provides that sets it apart from less effective security solutions.
Goes Beyond Plain Signature Matching
Some security plugins browse your files and check each line of code for specific patterns known to exist in malware. While this can detect a class of malware that is easy to catch, it is not an effective solution that guarantees the detection of clever hacks.
MalCare uses artificial intelligence technology that can detect all possibilities, making it a safe tool to guarantee your website's security.
MalCare Runs its Scans on Its Own Servers
Other security solutions that run their scanners on your website often cause your site to slow down. To counter this effect and provide your website's visitors with an optimal experience without any disruptions, MalCare runs its scans on your website data on its own servers. As a result, load times for your pages do not take a hit.
The scans I ran on my websites proved this to be the case. My site's load times were not affected while MalCare scanned it for malware.
Low False Positives
So far, I have not received any false positives that wrongly indicated the presence of malware. The team deserves kudos for ensuring that the appropriate steps were taken that alerts the system only when legitimate malware was found on the website.
Malware Cleaner
After the presence of a hack is detected, it can be tempting to reach out to security tech support and solve the issue for you quickly. But often, security teams take a certain amount of turnaround time during which your site remains hacked and runs the risk of being blacklisted by Google.
MalCare comes to the rescue here because if malware is detected, you can go ahead and clean the site with the click of a button. This is extremely beneficial for someone running a website but lacking in the technical know-how needed for full manual cleanup.
The Scanner section of MalCare provides an "Auto Clean" button that runs an automatic cleanup. After prompting you to enter details of your website, MalCare cleans up any malware and notifies you of it through email and an alert on the dashboard.
With MalCare's efficient technology, cleanup can take less than a minute to complete. The following features demonstrate the value that the malware cleaner provides –
Comprehensive Malware Cleanup – After the MalCare cleaner does its job, the malware affecting your website does not make a comeback via any loopholes left open to hackers.
Precision in Removal of Malware – MalCare automatically cleans up infected files and only removes files that are affected by the hack, ensuring that other files are left unchanged.
One-click Function with No Technical Knowledge Necessary – MalCare removes vulnerabilities with a single click of a button. This eliminates the need to deal with security analysts who can be a time sink and require more effort on your part.
MalCare Firewall
Any security service for your website today must include firewall protection. This is like a sturdy wall that protects your site from external network attacks by restricting access to it. MalCare comes with a web application firewall that is enabled by default, but it can be disabled at will if the need arises.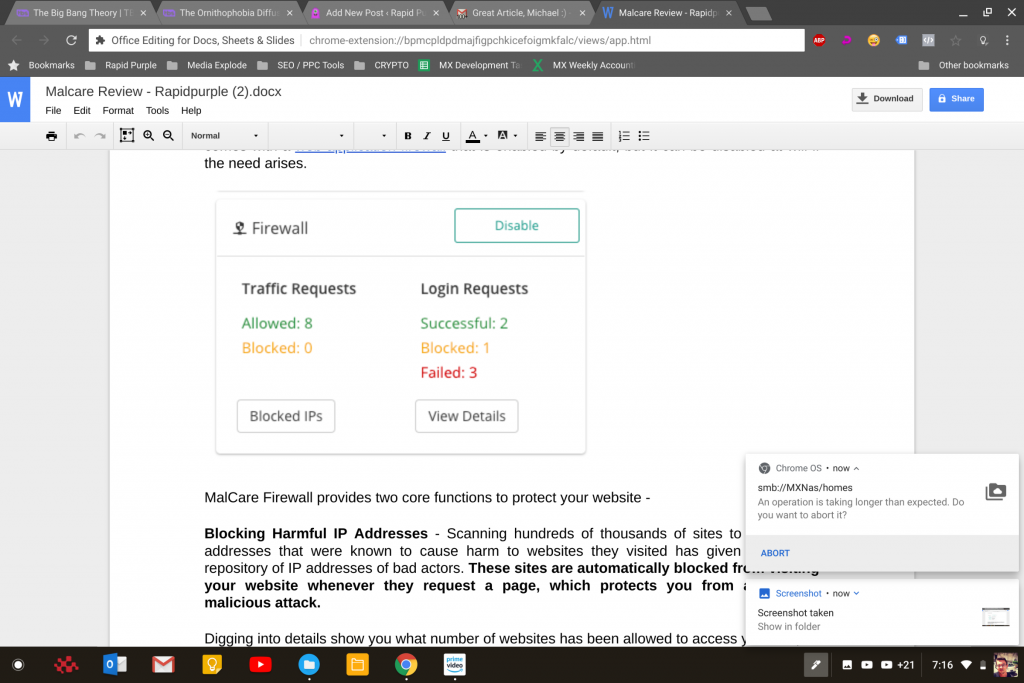 MalCare Firewall provides two core functions to protect your website:
Blocking Harmful IP Addresses

– Scanning hundreds of thousands of sites to look for IP addresses that were known to cause harm to websites they visited has given MalCare a repository of IP addresses of bad actors.

These sites are automatically blocked from visiting your website whenever they request a page, which protects you from a possible malicious attack.

Digging into details show you what number of websites has been allowed to access your site, as well as how many websites have been blocked from doing so. This can further be drilled down to inspect the IP addresses and countries of origin of various requests to your site for analytical purposes.

Login Protection

– To protect from bots that try to guess your login credentials,

MalCare provides a CAPTCHA test following 3 failed attempts to log in

. Since machines are unable to solve th

e

CAPTCHA, any brute force attempts of running bots to hack websites are detected and stopped in their tracks.
Managing Your Websites and Users
In addition to security solutions, MalCare enables users to update themes, plugins and WordPress core right from its dashboard. Updating out-of-date themes, plugins, and WordPress core is a breeze using MalCare. You can also remove plugins and themes that you do not use anymore.
You can also change passwords and add or delete users from the panel instead of the WordPress admin interface. This is useful when you manage several websites as it acts as a single portal for website management.
Secure Backup Service
MalCare has a powerful backup service (powered by BlogVault) that ensures that all your website data is always backed up and secure.
If your website is hacked, hackers can modify or delete your data as they see fit. In cases like this, having recent backups can ease the process of recovering from the hack and making your website functional again.
How Expensive is MalCare?
The free version of MalCare includes the scanner and firewall protection, and the paid version starts at $8.25 per month.
How Useful is MalCare Support?
To get my questions about the service answered, I reached out to the Support team and received answers within 24 hours. The Support personnel were competent and responded to my queries professionally. This is a good sign showing that the support team cares about their users and spreading knowledge about topics relating to security.
Takeaways from My Experience with MalCare
Overall Plugin Rating
My usage of MalCare has left me convinced of its strengths, and I would strongly recommend it to those of you looking to secure your WordPress websites.
The scanner seems stellar and provides excellent coverage against even sophisticated malware since artificial intelligence backs it.
The cleaner is another powerful tool, and its one-click simplicity makes it a great utility for site owners with limited technical knowledge. Overall a great product to secure your WordPress websites from malware.
With white labeling, you can rebrand MalCare under your own brand. In addition to this, you can also generate detail client reports.
One feature I would like to see in MalCare is two-factor authentications. The team has confirmed that this feature is being worked on and will be available soon.