Over my years of working with WordPress I have often seen some rather extreme measures being taken by webmasters to accomplish specific tasks/functions with their WordPress-powered websites. A perfect example was a client who was manually deleting her "limited time offer" sales Pages whenever her sale time would expire. This might not sound that bad, but this was one heck of a tedious process. Each new sales page had to be created, with a custom expiration time being stated. Then she would set a calendar event on her phone for the expiration time, and setup an alert to be reminded of the sale expiration. Then once the alert went off the sales page had to be updated to showcase that the sale has already expired.
Luckily, WordPress has a huge community of developers behind it and most of the time there is a plugin out there capable of doing exactly what you want, in a fraction of the time.
Before we jump into which plugins I use for this, you may be asking yourself why anyone would want to "expire" a page or a post. Let's take the previously mentioned scenario, imagine you are running a limited time special offer, or a limited time sale on a product or service. You want to make sure that at 12:00 on a specific date your sale/offer is no longer available. Furthermore you don't want to manually have to get onto your computer at 12:00 on said date to make the changes yourself.
And now that we know the why, let's look at the how. For the purpose of this tutorial we will look at two different plugins that can help us accomplish our goal.
Post Expirator is a simple plugin, allowing you to choose an expiration date and time for any WordPress page or post. Once a page/post expires Post Expirator can change the status of the Post to Draft or Deleted, or change the category of the post.
This is a great way to accomplish your necessary task however removing this page by marking it as deleted or as a draft will also mean Google will get a 404 error when it attempts to rescan the page, and thus remove it from its index. If these pages aren't intended to be indexed at all – then your good to go! Stop reading – enjoy your new limited time offer pages. If you want some more features and feel this isn't enough – keep going.
Want more features and more control? This is where Page Expiration Robot starts to shine. Page Expiration Robot in its most basic sense will perform the same functions as Post Expirator – however you can customize a lot more. For starters your pages do not have to be set to drafts or deleted. Instead you can select to display an image of your choice explaining the offer has expired.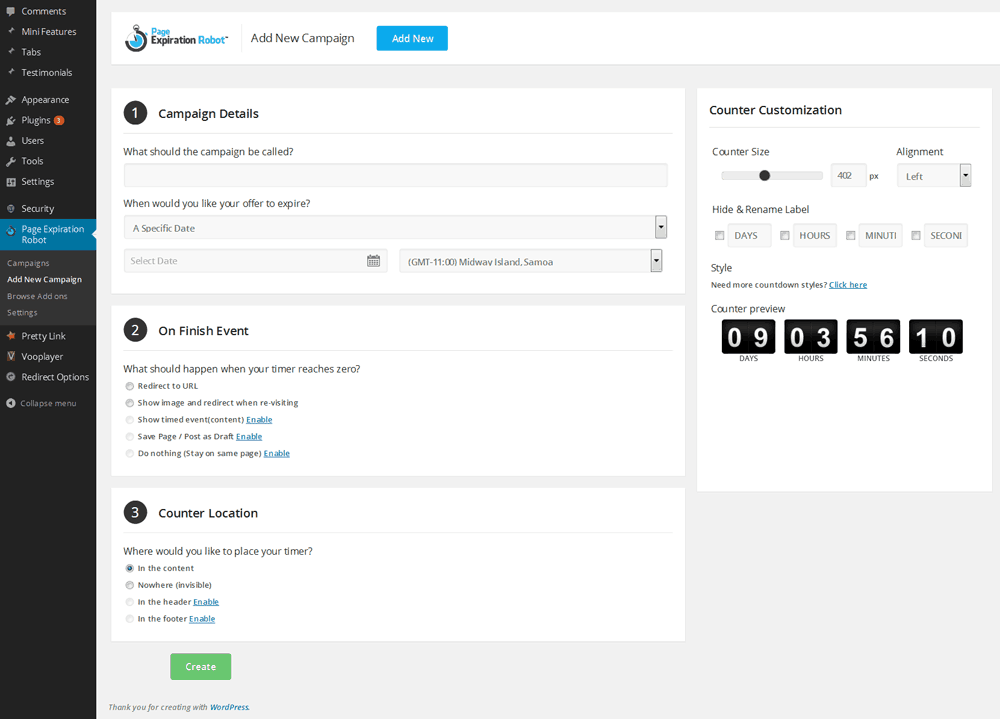 Page Expiration Robot takes things a step further however, offering the ability to integrate an actual countdown timer onto your page/post to showcase the time remaining. Furthermore theres a series of premium addons that allow you to further customize your limited-time offer.
So there you have it. Two easy-to-use plugins that will go a long way in helping you add expiration functionality to your WordPress posts and pages. As always, post your questions in the comments below!