The X3 interface for cPanel has been with us webmasters for what feels like forever – and if you're hosting provider has been using cPanel than you're one of those webmasters too. Alas today the plans for its official deprecation have been laid out – and the interface that we have become exceptionally used to is slowly being retired. I mean I still remember when Dave first showed off X3 back in 2007 and I've always appreciated the simplicity of the X3 interface, especially when you compared it to GoDaddy's 2007 attempt at a hosting control panel. I fully understand and appreciate change, alas I'm a little bit sad to see my old buddy go.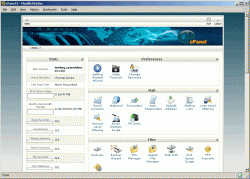 Just like most things in life, the new is never new for long. The interface that once made cPanel the simple yet powerful hosting control panel is now dated and drab and as such cPanel built out Paper Lantern – the new, more colorful, happier, sleeker, modern interface.
So what does the future hold for X3? cPanel is taking their time with this deprecation, giving X3 some time to say it's goodbye's and settle in to it's retirement home.
As of cPanel/WHM v11.52 Paper Lantern will be considered the default theme for all newly created accounts. Already existing installations of cPanel & WHM will not be affected. If you are using a third-party theme, you will also not be affected.
11.54 will see an end to non-emergency and non-security related maintenance to the X3 interface.
Finally as of 11.58 X3 will no longer be shipped with cPanel & WHM at all.
Now it's important to take note here that X3 will not be removed from any pre-existing installations of cPanel & WHM during the update process to 11.58. If you are using a branded X3 interface, you may continue to do so. cPanel is simply stopping any and all updates to the X3 interface.
For those of you who are transitioning over to Paper Lantern, or who already have: show some respect to the elders as we share our farewells to the cPanel X3 interface.