GoDaddy users beware! There is a brand new phishing scam going around which pretends to be an email from [email protected] notifying you that your email account storage has reached it's limit. The associated link brings the user to a non-https secure, non-Godaddy.com website with a GoDaddy themed login page. Keep an eye out for the following email and make sure you delete it immediately. You're GoDaddy email account is perfectly fine, and if you are concerned about it at all – give GoDaddy a call directly at (480) 505-8877.
If you did get caught by this scam, it's time to go ahead and change your password. If you used the same login credentials for GoDaddy as you did on other websites, I would change your password across all affected sites.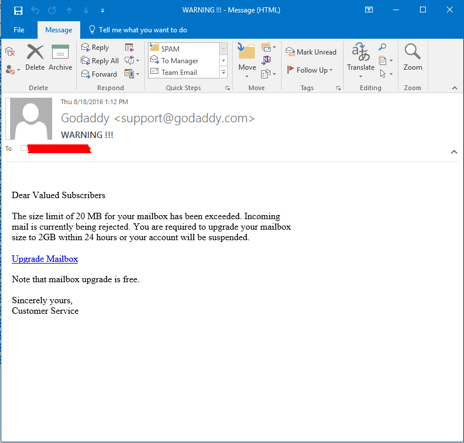 The scam was first alerted on by Comodo, who has written up a detailed guide on exactly how it works here – complete with pictures of each step of the phishing process.
The lesson from this particular scam is to be vigilant, especially when a link or logins or passwords are involved. Continually look for the clues that scammers leave behind. Website traits such as https, and valid digital certificates issued by reputable Certificate Authorities should be the first thing you look for, anytime a website asks you for any information. If those things aren't present, we can almost guarantee you that there's a problem. In general, if something seems off, it probably is. Best then to contact the company via established channels that you've successfully used before.