Late in 2016 I had first spotted these email-based domain name expiration scams going around, and unfortunately these are making their rounds across the interwebs again, only this time there's a new variation. Much like the IDNS scam, these scams are also targeting domain name renewals, however these domain name renewal scams focus on sending email-based notifications. I have put together the post below to help showcase the different variations of these scams in one easy to reference place. If you prefer to listen rather than read you can view my video about these scams above, or directly on YouTube here.
Variation 1
The first version of this scam comes to you via email – looking like an official note of renewal. We previously covered this back in October 2016, and frankly not much has changed. Without fully reading all of the fine print – it's rather easy to mistake this notice for an official expiration request – especially when the expiration dates listed are the same as the registration expiration date of the domain name. However if you really pay attention and read through everything you will notice that you are really purchasing an SEO service, and the fine print does explicitly state: We do not register or renew domain names – I have highlighted this sentence in the screenshot below.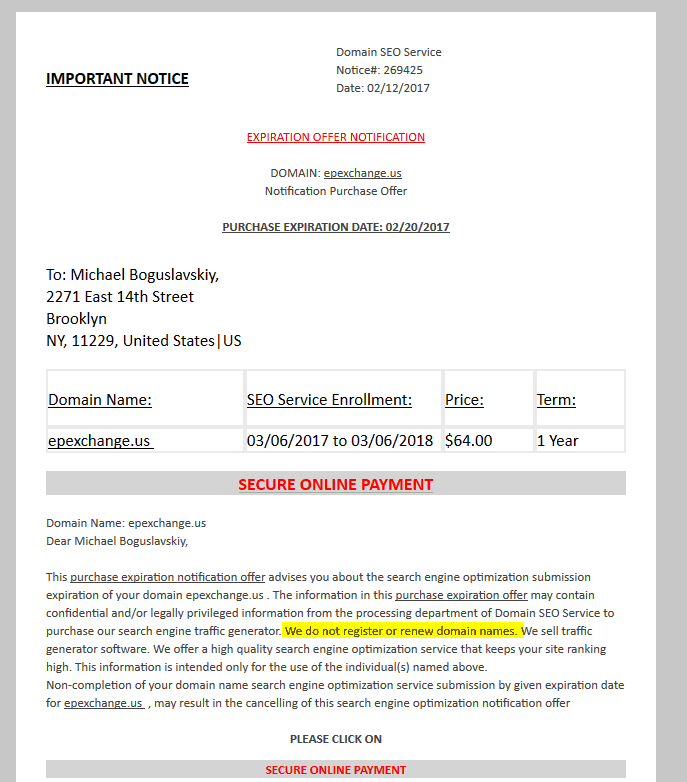 Clicking through on the secure online payment links brings you to a non-secure website, which does a great job at making you believe you are renewing a domain name. The prices however are a bit out there.
Variation 2
The second variation of the email-based domain name renewal scam is an expiration notice that is sent via email or using the contact form on your website. I must admit this is the first time that I see a website contact form being used in such a way. Normally contact forms just get hit with spam bots.
The notification email is text-based usually, and directly asks you to renew your expiring domain name or else risk financial loss, downgrade in search rankings, missed customers, etc. Once again these notifications come to you just prior to the actual registration expiration of your domain name, so most people assume this is related and blindly follow through.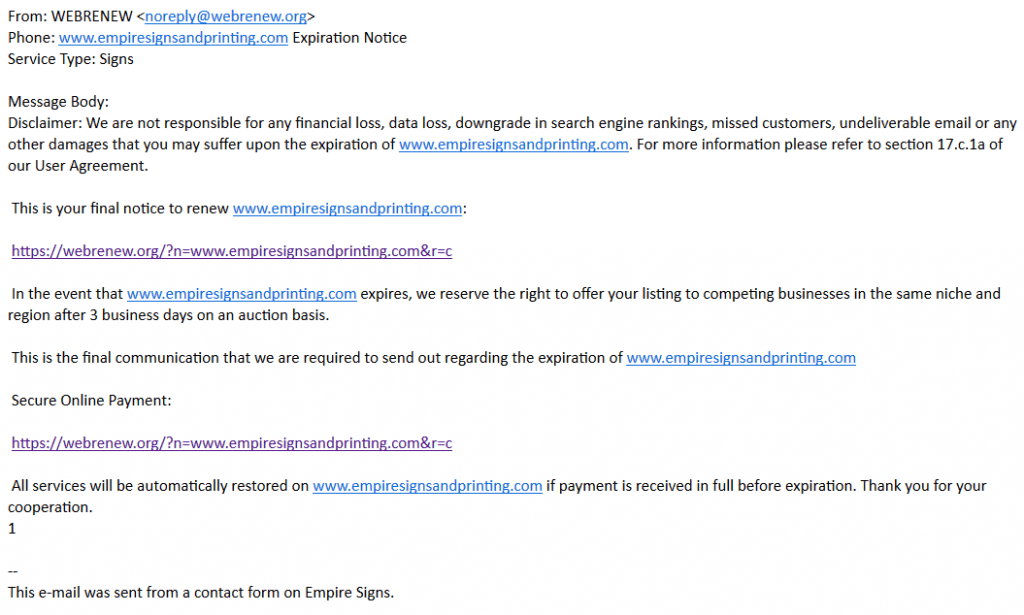 The links once again bring you to a non-secure payment page where you can input your payment details and renew your domain name. Much unlike the IDNS scam where your domain names are actually renewed (at an insane price) – this scam simply collects your payment details without ever actually renewing your domain name. Luckily at the time of writing this post webrenew.org has already been taken offline. However much like Internet Domain Name Services owns a lot of domain names, these scammers do also.