When it comes to the world of content management systems – WordPress has always stood out as the most well-known platform. A recent report by W3Techs however shows that WordPress isn't just well-known – it's powering 25% of the entire Internet – and that is quiet the numbers for a program that was intended to focus on blogging.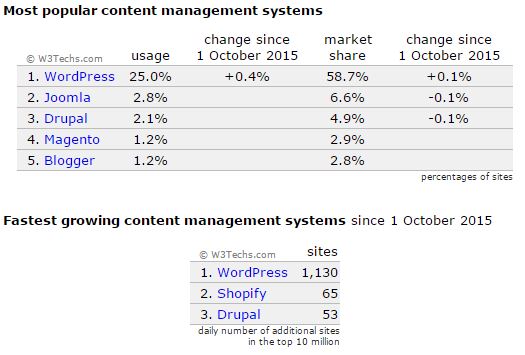 The original WordPress first appeared in 2003 as a joint effort between Matt Mullenweg and Mike Little to create a fork of b2. By 2009 WordPress was the most recognizable brand in the content management world.
"We should be comfortably past 25 percent by the end of the year", Automattic founder Matt Mullenweg declared. "The big opportunity is still the 57 percent of websites that don't use any identifiable CMS yet, and that's where I think there is still a ton of growth for us (and I'm also rooting for all the other open source CMSes)".
I have been recommending WordPress for roughly a decade now and having produced plenty of WordPress powered websites – I'm extremely happy with these news. PHP-Nuke (my original CMS favorite) is way below the 0.1% market share sadly – alas it hasn't exactly had much success in the past years. DotNetNuke however is holding down a 0.2% market share.