The days of simply rolling something out the door and attracting attention from people is unfortunately long gone – and these days you need to find a way to get your new product or app to be seen by others. As such, when you launch a new mobile app you need a way to rank that app within it's app store. With this in mind Apple has introduced Search Ads – a new way to increase app awareness in the App Store and allow any developer to launch a new advertising campaign for their app, manage that campaign, and view insights and analytics regarding their campaign.
Currently Search Ads is setup to showcase 1 ad per search term, distinguished from the rest with a blue-tinted background.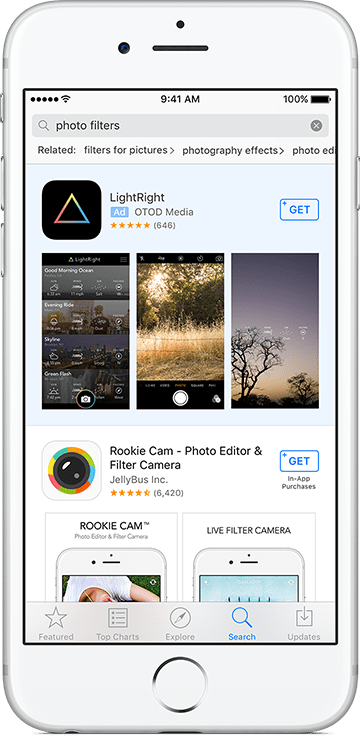 How Easy Are Search Ads To Get Setup?
Search Ads has been designed to make it easy for any developer, regardless of their past marketing experience, to dive right in and start promoting their app. Search Ads can automatically setup a campaign with minimal required feedback, however more advanced targeting features however do exist such as age, location, gender, and OS targeting. The bare minimum you need to create a new campaign is:
Your App
A Budget
Payment Info
Search Ads will automatically create an ad for you based on your app's metadata and selected imagery. Then it will use proprietary algorithms to match up your ad to real search terms being used within the App Store. Then just set your budget – maximum daily spend and maximum cost per tap (click), submit your payment info, and your ad is live!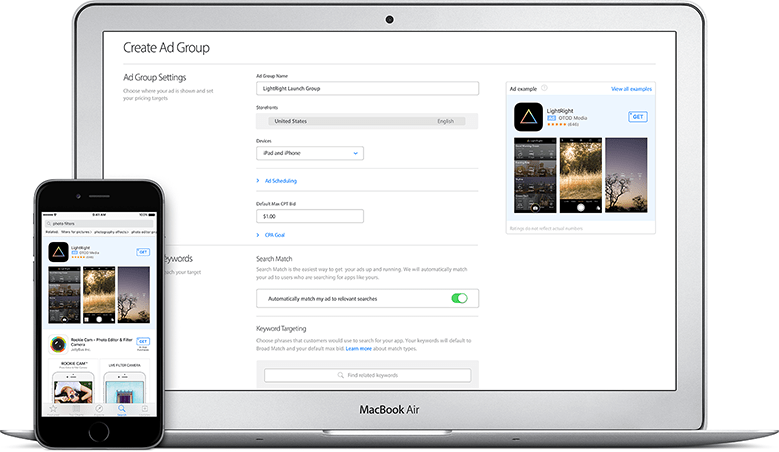 Can I Advertise My Food App Using Gaming App Search Terms?
I already know what your thinking. Can't we just advertise our app for the search term of another app? No. Apple has written their own algorithm to determine the relevance of your app and the search term – and as such regardless of how much you might want to pay Apple will only show your app for search terms it deems are relevant. So making a food delivery app and advertising it under search terms for gaming keywords won't actually produce anything.
How Does Apple Determine If My App is Relevant To A Search Term?
Apple's algorithm makes use of the app title, description, and app store metadata, combined with user response (such as whether or not users have clicked on the ad in the past), to determine whether or now that ad is actually relevant to the search term.
Can I Add Custom Graphics To My Ads?
Currently, to ensure quality and safety, only the same content that's already been approved for your app within the App Store can be utilized in Search Ads. So using a custom graphic to help entice a click-through is not possible – yet.
Learn more about Apple's Search Ads here, and make sure you watch the WWDC session video that goes much more in-depth on all the features coming with Search Ads. Existing developers can also join the Search Ads beta here.