Yelp has always been against paid reviews, and considering the fact that their platform is intended to be a place where consumers can get honest reviews about the places they want to visit – it makes complete sense that they would be against anyone trying to "game" their system. Now you might bring up "well what about when Yelp hides negative reviews for businesses who pay them?" – good point.
Anyway, Yelp doesn't want you to pay anyone else to fix a bad review. That doesn't mean you shouldn't address that negative review. Respond to that negative review; and attempt to resolve that on your own. But you shouldn't go out and say "here's $50 please change your review to a positive one". I did an entire video on dealing with negative reviews – and if you're still trying to figure out a great method to handle negative reviews for your own business I urge you to watch that video.
Alas, what happens if you do offer out money for a review, or you did in the past? Yelp has been cracking down on businesses who have been participating in such practices since about 2012 by placing a large, in-your-face, message box that well … blows up your whole spot and tells everyone your reviews aren't what they seem. Once you get one of these alerts onto your page it will stay there for 90 days – and that will probably hurt more than any negative review.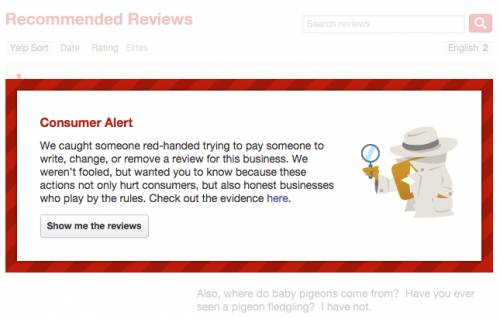 Things can get worse however. Kayleigh Winslow might just head over to the Yelp blog and really dig into your shady business practices. Ouch.
Wouldn't you want to know that Spokane Laptops was caught threatening customers and offering to pay $50 in exchange for the removal of negative reviews before taking your broken laptop into that shop? Likewise, you'd probably appreciate a heads up that this MedRite Urgent Care was caught twice attempting to inflate their ratings before rushing in with a medical emergency. Similarly, you'd want the tip-off that a large number of five-star reviews for Family Dental Care came from the same IP address used to claim the business owner's account before heading in to get a tooth pulled.
So far this year Yelp has issued 287+ of these warnings. Back in January, Yelp issued 85 of these types of warnings on business pages. In June, it issued 51 more; then another 51 September 1st. Finally September 4th Yelp issued 100+ more on listings associated with Movers Alliance.
Yelp has issued a new Reputation Warning on more than 100 listings for moving companies across the U.S. who are connected to the Movers Alliance, a group that operates many mover and relocation businesses under several names and listings on Yelp, other consumer sites, and government databases. We have evidence that this group and the businesses connected to it pressure customers into writing positive reviews (sometimes on the spot) in exchange for a discount, manipulate customers into posting reviews to listings other than the one they transacted with (sometimes in an entirely different state), ask customers to sign a contract preventing them from publishing negative reviews in case of a dispute, and purchase fake reviews online.
Paying for your reviews isn't the way to go and it really never was. Plus it's abundantly clear that isn't going to fly on Yelp – and that's one of the places where your reviews matter the most. That said there's plenty of good ways to handle your negative AND your positive reviews and if you're not 100% confident your businesses reviews are coming from legit methods and real customers – I suggest you reevaluate how you are handling your online presence before anything like this happens and greatly damages it.