Yahoo has recently launched Product Ads – letting advertisers reach customers with direct call-to-action ads for their products, and right on time for the holiday shopping spree that most of us have to go through.  Considering that recent studies show that 44% of consumers look to a search engine when researching their holiday gifts, and the fact that Google has done quiet well with their own Product Listing Ads over the years – Yahoo was surely looking to grab a piece of that advertising market.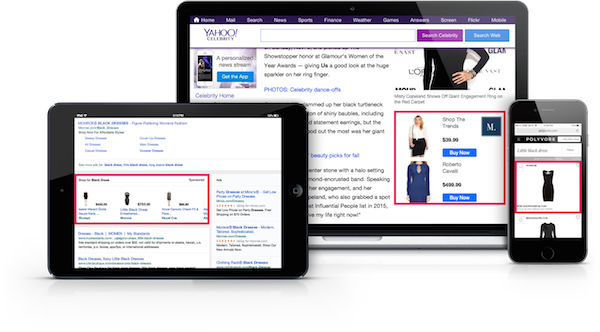 "Yahoo Product Ads help retailers deliver more relevant ads to shoppers in order to influence and re-engage them at every stage of the purchase funnel," said Courtney McKlveen, Vice President, Industry Lead Retail & Travel at Yahoo. "Early advertisers using product ads have seen up to 20 percent higher conversion rates and more than 30 percent lower cost per acquisition, enabling them to scale campaign impact without scaling budgets."
Wondering what new features come with Yahoo Product Ads?
Superior targeting: Yahoo's industry-leading proprietary data and insights help marketers increase awareness with new users early in the sales funnel, drive incremental sales from recent visitors, and acquire new customers.
Expansive reach: Reach customers while they are consuming digital content on Yahoo or the thousands of other properties we reach, researching gifts on Yahoo Search or finding the perfect cocktail dress on Polyvore, and drive them to your site.
Engaging ads: From a single feed, marketers can create image rich, dynamic and relevant search and display ads to catch shoppers' eyes and drive more traffic to their sites.
If you want to try out Product Ads on your own Yahoo advertising campaign simply reach out to your Yahoo Advertising representative and ask them!