If you haven't been paying much attention to DuckDuckGo as a webmaster – now is THE time to start. According to the latest statistics – DuckDuckGo has had 4 billion searches in 2016, and these numbers are set to only go up throughout 2017. In fact on January 10th of 2017 DuckDuckGo served up 14 million searches!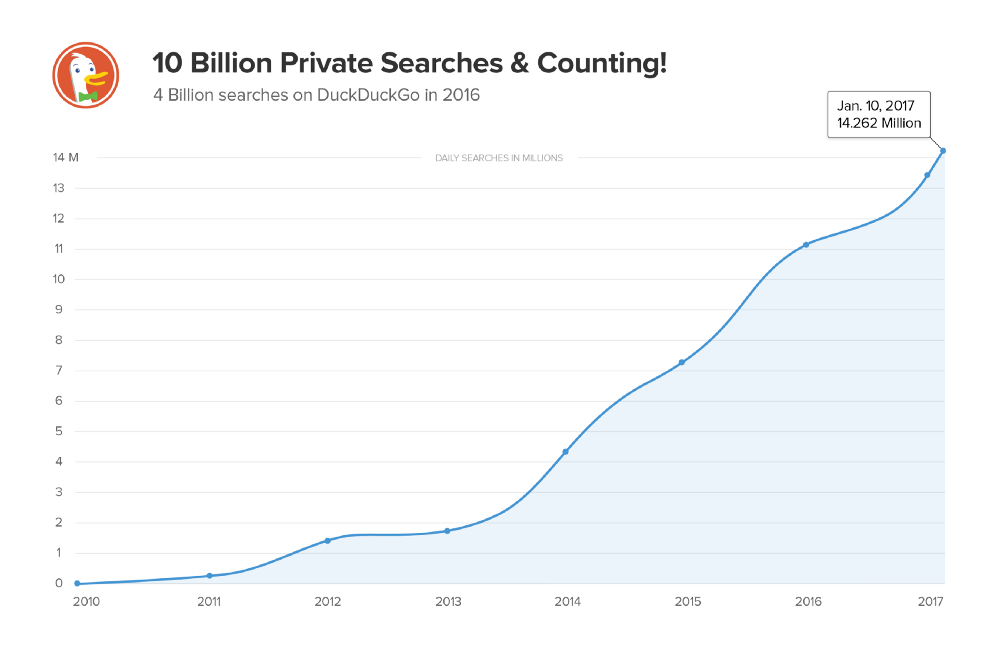 Some all around awesome statistics here, which should surely mean that there is a fair share of visitors being sent to your website from DuckDuckGo. What's important to note here as a webmaster is that DuckDuckGo has their own algorithm for ranking their search results – which means that just because your website ranks on the 1st page of Google doesn't mean it will be ranked on the 1st page of DuckDuckGo. Furthermore DuckDuckGo doesn't have any webmaster tools allowing you to check your indexing status or submit an XML sitemap. What we do know is that DuckDuckGo relies on 400+ outside sources to gather their index from; and that the only official answer on how to improve your rankings is "to get links from high quality sites like Wikipedia."
Now before you get upset here – this is really exactly what SEO in 2017 is. Proper SEO is still all about creating great content and getting back links; and that's what a DuckDuckGo wants the webmaster community to focus on.
Nevertheless, a huge congratulations to DuckDuckGo on their ongoing growth!