GoDaddy has kept a steady focus on WordPress hosting & related services, ever since they first rolled out managed WordPress hosting services back in 2014. Since then, GoDaddy has acquired ManageWP, Sucuri, launched Pro ManageWP, developed a WordPress website builder, and worked on a series of training tutorials for WordPress developers and designers. So, it comes with little surprise, that GoDaddy has rolled out yet another WordPress-based service: WP Premium Support.
This is, in a nutshell, like having a basic WordPress developer on standby, ready to handle your tasks whenever you call upon them. Want to update your theme? Troubleshoot a plugin? Optimize your WordPress database? GoDaddy's premium support team is ready to handle that for you – 24x7x365!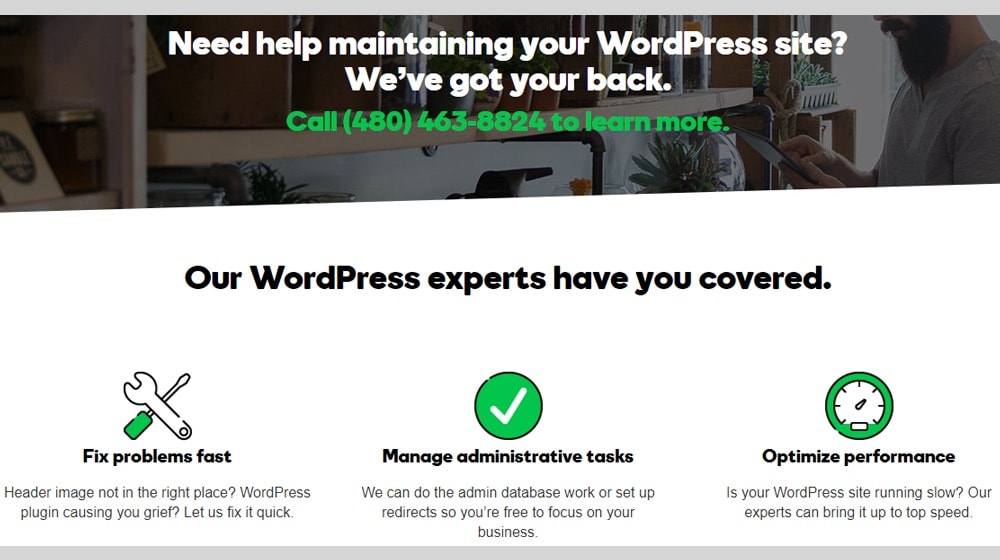 "Small businesses have better things to do than spending their time figuring out how to troubleshoot and implement WordPress fixes on their own. Whether it's a plugin that stops working or a theme that needs updating, it's not a matter of 'if' but 'when' additional support will need to be called in," said Alex McClafferty, director of product and founder of WP Curve, which was acquired by GoDaddy in 2016. "With WP Premium Support, we're providing peace of mind to small businesses whose WordPress websites can be kept up and running as they should be, with fixes expertly implemented, and fast."
While there is quite a lot that the GoDaddy premium support team is ready to assist you with, there is also a list of things they won't do. This includes custom SEO work, content generation, graphic design, and more. I urge you to check out the full list here.
Task costs are handled in the form of credits. Each task requires 1 credit to complete, and each monthly plan provides a certain amount of monthly credits. It's important to note that unused credits do not rollover to the next month – so choose wisely. The three offered plans are as follows:
3 Monthly Credits @ $79.99/mo
5 Monthly Credits @ $99.99/mo
10 Monthly Credits @ $149.99/mo