HostGator has announced a partnership with MOJO Marketplace today in an effort to provide customers access to premium graphics, themes, templates, plugins and extensions for most major scripts, quickly and easily. To be honest – the partnership isn't much of a surprise. Both brands are owned by Endurance International Group (EIG), and templates and web hosting have long been a popular combination.
For users – this is pretty awesome news considering you can now easily book a WordPress Starter package from MOJO Marketplace which will include a fresh WP installation, a theme installation & setup to replicate the theme demo, a $49 theme credit to purchase that awesome theme you want, WordPress SEO sitemap setup, WordPress security configuration, & training on how to use your new theme. ALL of this can be purchased quickly and easily from within the cPanel on your HostGator hosting account.
The MOJO Marketplace services have been integrated into HostGator's one-click installer, QuickInstall.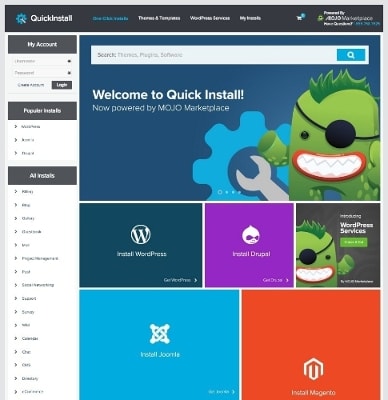 Furthermore links to MOJO Marketplace are available in the Special Offers section of cPanel for Shared hosting accounts.