When it comes down to running a blog you're audience is everything. Determining your target market, their favorite content, when their reading – these are all crucial in the success of your blog or news site; however for the average beginner blogger gathering and analyzing this data is generally out of their realm. This has always been where WordPress.com – the self hosted cousin of the WordPress platform – came into play. Offering a simple, managed, ready-to-go solution for bloggers to do what they do best: write. Well to further help out bloggers WordPress.com has revamped their analytics and introduced a completely new view for your blog stats showing you how your blog posts are doing, and when is the ideal time to make a new post.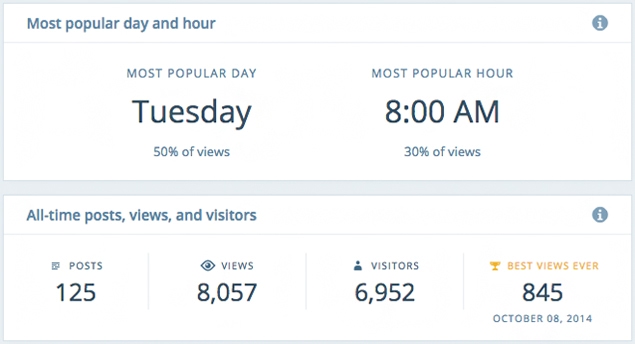 You can drill through these stats even more and keep track of your blogs entire posting activity, determine dead-zones when no posts were made – and make sure this doesn't happen again.

The old WordPress.com stats are all still available. Analytics regarding Comments, Followers, Tags & Categories, and Publicize have been moved to the Insights page.
Remember this is for remotely-hosted WordPress.com sites only. Those of us running our own, self-hosted WordPress blogs sadly do not benefit from the new WordPress.com analytics.