Scams suck – and I absolutely hate them. One of the key things I have always built a business on was honesty and transparency; and as such it's a personal pet peeve of mine when people attempt to trick people into becoming a client. It's a sleazy tactic – unfortunately it happens very often in this industry.
A popular scam over the years has always been the domain name expiration scam – and it's one I have witnessed first hand numerous times over the years. The basic concept is you get a letter from some legal sounding registrar telling you that your domain name is expiring soon and to enter your payment information to renew it. Then they tell you you're domain name costs $45/yr. That same domain name you probably bought for less than $15.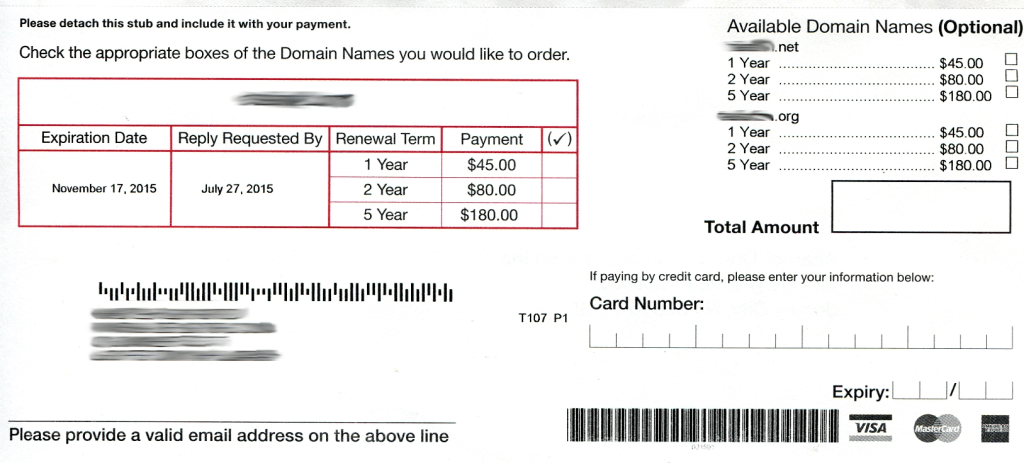 So when I got one of these letters in the mail, this time from Internet Domain Name Services (idns.ae, idns.ag, idns.to) – I figured I would write up this post, and make the associated video, so hopefully nobody falls for this and ends up writing their credit card number down on a slip of paper and mailing it to a room above a UPS Store & a Popeyes restaurant in New Jersey.
The company/brand has changed over the years. There was Domain Renewal Group, Domain Registry of America, Domain Registry of Canada, Liberty Names of America and finally Internet Domain Name Services which seems to be the latest company name. However, as you can see below, the concept and pretty much everything else stays the same.
Most of the old companies have already been shut down, or experiencing significant law suits (Internet Registry of Canada was hit with a $40,000 fine in July 2004) – however it doesn't look like there is any end in sight for this scam.
Chances are that your registrar will never actually send you any physical mail – and if they do they will always address you by your registered name with them. In the case of most of these mailings – they get addressed to Domain Owner.
If you do get one of these letters in the mail – go and renew your domain name with your actual registrar. Or check out Google Domains, Namecheap, or GoDaddy. Real companies, with real offices, who don't ask for your credit card information on a slip of paper. When you're done with that – make a paper airplane, use it as a fire starter, or play with the office shredder. Just DO NOT SEND THEM YOUR MONEY!