Facebook has been heavily focusing on video content for a while now. Recently they have started testing out letting pages utilize videos as their Facebook cover photo – which introduces some amazing new marketing opportunities. The new video cover starts to play as soon as a Facebook page loads, and works across desktop and mobile devices. Facebook hasn't really made anything official about these yet, short of a single tweet confirming that video cover photo's are currently being tested.
To see if you're page is eligible, look out for the following option when changing your cover photo: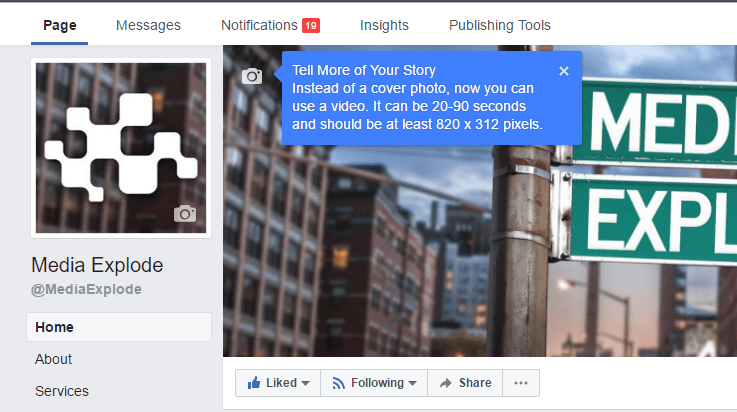 If you don't see the option available yet – don't despair. Not everyone will be able to test out video covers for their Facebook page yet – however the majority of US-based business pages that I manage have been given access to video covers already. Chances are you will get access to this new feature soon.
For those of you who have video covers enabled, you can either select a new video to upload, or choose from an existing video on your profile to add to as your cover photo. Facebook suggests a dimension of 821 x 312, however it has no problems utilizing larger resolution videos and sizing them down to fit. The only real requirement that Facebook forces upon you is the 20-90 second time limit when you upload a new video – and those 90 seconds give you a lot of opportunity to tell a story and let people know what your Facebook page is all about. However it doesn't seem that Facebook applies the same limit if you select a pre-existing video. I was able to select a 10 second video, which Facebook simply looped.
If you are curious what the new cover video looks like, check out the Narcos page, or the Rapid Purple Facebook page!
Absolutely WOW! @Geoffdx @gcsimos have you seen that?! Video Cover on Facebook already on! cc @PlanableApp pic.twitter.com/FdIwRovdCc

— Vlad Calus (@vladcalus) April 25, 2017