HootSuite
is pleased to announce that Google+ Pages is now available to nearly 5 million users worldwide! Whether you're on a Free, a Pro or an Enterprise plan, you'll be able to efficiently manage Google+ Pages alongside other social channels, providing you with an even better way to capitalize on the social power of this rapidly expanding social network.
Social media teams can now fully utilize the advanced capabilities of HootSuite's engagement, measurement, collaboration and security tool-set to manage the unique brand-focused environment of Google+ Pages for:
Targeted Publishing with Circles
Advanced Circle Management
Targeted Publishing with Circles
Google+ Pages in the HootSuite dashboard allow brands to tailor messaging to specific audience segments and post updates to selected circles. HootSuite privacy features let TeamMembers select whether a post will appear public, or whether it will post to a specific circle.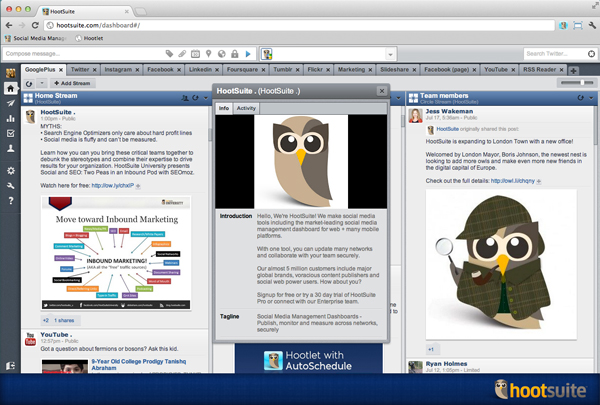 Advanced Circle Management
Brands can now collaboratively build out their Google+ Page presence using HootSuite's advanced team workflow functionality – such as message assignments and follow ups – optimizing the unique engagement benefits of Google+ circles.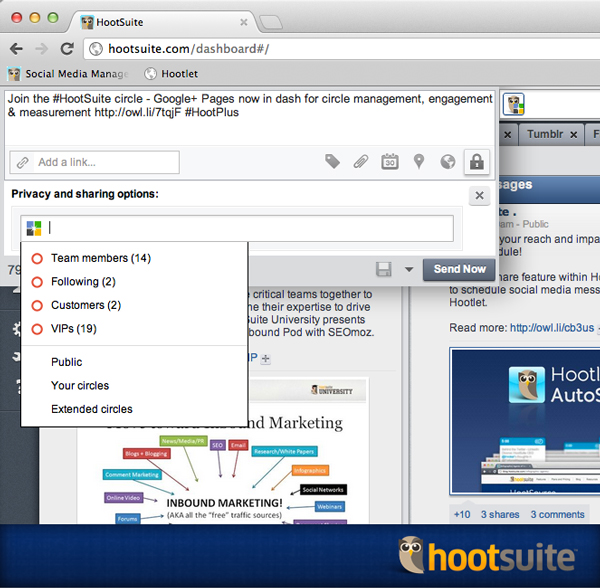 The functionality also allows for custom searches of keywords or phrases within public posts and specific content streams for easy monitoring. By simplifying the monitoring of comments and posts from audience members, teams can streamline +Pages management easily through the HootSuite dashboard.